LOVE MONTH CONTINUES!
As we Love Well, we are learning that Love doesn't stay at home - we want to make our love wider. Over the next two months we will be loving on people outside of our church and community. Be sure to jump in to as many of these events as you can.
_____
FRIDAY, NOVEMBER 23
10.00a - 4.00p
FFC is excited to partner with JoyFM Radio to host our annual blood drive. The blood banks run dangerously low during the holidays and your donation could save up to three lives. If you would like to donate blood, please make an appointment online at myffc.info.
_____
FOOD FOR ANOTHER FAMILY
NOV 4 - NOV 11
For the past few years the Streetlights Team has delivered frozen turkeys to the families in East St. Louis for Thanksgiving. This season we would like to increase our love by including a complete meal. With a donation of $20 or more you can help us reach our goal of feeding 250 families.
To make a donation or to sign up for the packaging day go to myffc.info.
_____
COLLECTION DEADLINE - Nov 11
Bring your boxes back.
Wow! You are doing a great job committing to fill a shoebox. Now take the next step and fill it with goodies and bring it back as soon as you can. The deadline is November 11 – but let's beat the deadline and ensure we get all of our boxes sent out to the children this year. You can click the buttons below for all of the information you need.
If you register your box online at samaritainspurse.org you can track where your box goes and know that a deserving child received your gift. If you didn't get a box – use one you have at home, or purchase a plastic one at your local store.
Our goal this year is to collect 800 boxes. This is less than one per person. Below are some links with ideas of how to make packing the boxes fun!
_____
December 7 - 9
Hyatt Regency St. Louis at the Arch
This weekend is a chance to slow down and reconnect. Give each other an early Christmas gift you will never forget, an investment in your marriage and relationship that will last a lifetime. In one weekend you will discover:
God's purpose for bringing you together
Your distinctive roles as husband and wife
How to resolve conflict and fight fair
Use the code Faithfamily to pay a discounted prize of $99.99 per person. Military call 1.800.FLTODAY for a discounted prize of $49.99 per person.
_____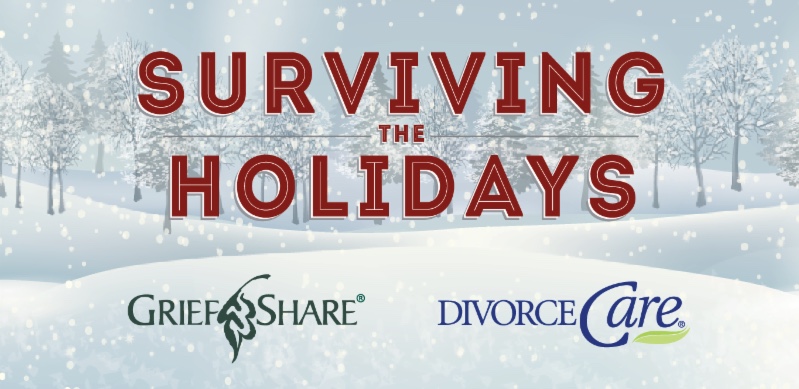 Grief Share Divorce Care
No matter how long it's been since your loved one passed, grief can make the holidays a painful time. If you're separated or divorced, the holidays can also be a lonely, stressful and depressing time.
But there's hope. Join us for an encouraging free seminar to discover new reasons to enjoy the holidays. Seating is limited so please register today!

Grief Share Seminar
Sat, DEC 15 | 10a | Room 212


Divorce Care Seminar
Sat, Nov 17 | 10a | Room 206
Sat, DEC 15 | 10a | Room 206
_____
Save the Dates
Christmas is coming and so is our Christmas Kaleidoscope 2018. Once again this will be a tremendous show, jam packed with music, dancing, singing and the Christmas story. Begin to pray about who you will invite.
An exciting addition to this year's show is a canned food drive. Admission is free, but consider bringing a canned good to donate. It's a great way to Love Well.
Performances
Friday, November 30 at 7.00p
Saturday, December 1 at 3.00p & 7.00p
Sunday, December 2 at 8.30a, 10:30a, 3.00p & 7.00p
_____
GET CONNECTED!
Joining a small group at FFC is a great opportunity to make new friends and learn something along the way. Small groups range from hobbies to sports to Bible studies. Click the button below to view the Fall Connect Guide.
_____